Regional Studies Programme
Regional Studies Programme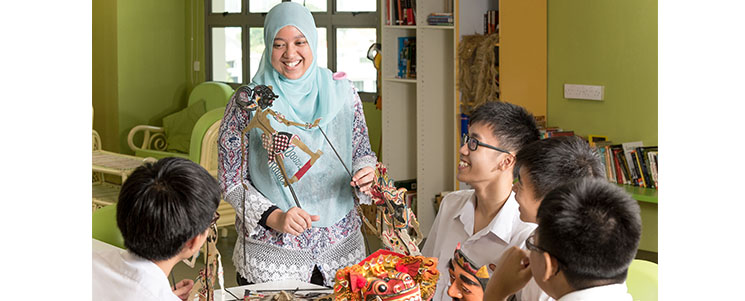 Regional Studies Programme (RSP) (Bahasa Indonesia)
In 2008, the Ministry of Education introduced a new programme called the Regional Studies Programme or RSP, to four schools, ACSI, RI, RGS and VS. VS is the only school which offers Bahasa Indonesia (BI) among the 4 schools. RSP students have the privilege of learning BI as a third language in school and go through a specially designed Understanding Southeast Asia (USEA) module which is a study of people, places and cultures of Southeast Asia. In VS, RSP will have the following features:
a. Students in the RSP will offer BI as a third language and USEA as an enrichment module. To encourage students to offer RSP,
i. two bonus points will be given to RSP students who obtain a grade of A1-C6 for the BI;
ii. BI can be counted in-lieu-of a humanities subject in their L1R5 score.
b. Up to 20 scholarships will be awarded per cohort of students in the programme. The scholarships will cover a school fee subsidy, an annual allowance of $1000 per annum and sponsorship for regional immersion programme.
c. USEA is non-examinable. Its curriculum will include overseas immersion programmes and structured enrichment modules spread out during the course.
d. This programme is opened to Integrated Programme (IP) and O Level track students.
Eligibility for RSP
For students who are not offering Malay as their MTL
Students who excel in languages are strongly encouraged to apply
Eligibility for Scholarships
For outstanding students who are Singapore citizens in RSP
Guidelines for Selection of Scholars
Students who show keen interest in BI and in learning about Southeast Asian culture and contemporary society
Achieve excellent overall academic results
Exhibit scholarly qualities including leadership and other personal qualities
Terms of Scholarship
Scholarship allowance of S$1000 per annum
At government or government-aided schools – subsidy of school fees ($60 per year)
There is no bond tied to the scholarship
Funding of $80 per day for up to 20 days of immersion in Malaysia or Indonesia (onshore costs only) for the whole course ($80 x 20 = $1600)
Includes accommodation costs and meals
Excludes daily spending, visas, insurance and international flight(s) airfare costs