Motto, Crest, Anthem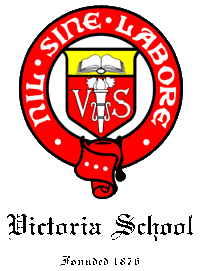 The open book symbolizes lifelong learning.
The torch symbolizes truth and the passing on of a tradition. It also illuminates the way of Victorians who venture forth to excel beyond the shores of Singapore.
School Colours
Yellow: Stands for dignity and excellence
Red: Symbolizes universal brotherhood and equality
School Motto
"Nil Sine Labore" (Nothing Without Labour)
Victoria Anthem
Lyrics by J A Frazer
Music by W E Meyer
Victoria In Singapore,
There are other schools we know,
Victoria is something more,
The school that watch'd us grow.
For here we've learnt and striven too.
And played the sportsman's game;
Victoria, we give to you
The honour that you claim.
Victoria thy sons are we,
And we will not forget,
Victoria thy triumphs see,
And victories we share yet.
For others came before and went,
And carried to the world,
Victoria's fame and our intent
To keep her flag unfurled.
Click here to view the notation.
Click here to view the video of Victorian Anthem.